Councils regularly undertake comprehensive reviews of their rating policy settings. These major initiatives arise from the following:
Revisions from decisions of new councils.
Amendments to differentials, and establishment of new rating tools including use of targeted rates.
Wholesale implementation of new rating schema's to fit within the Rating Act 2002 provisions.
In some cases the computer, decision support and other more flexible tools to fully manage this complex exercise are 'just not up to it'.
Often this area of rates calculation is poorly supported within:
Spreadsheets that often have "just grown like topsy" - with no 'integration'.
Non-existent documentation and audit trails.
Poor proof of the totals leaving budgeted rates calculation and rates setting reports isolated from each other.
These circumstances inevitably result in poor outcomes - that is:
'Clunky' Spreadsheets
Time consuming effort puzzling over 'last year's workings to try to establish what was done'.
Poor documentation leading to difficulties - particularly with audit.
Absent also from these 'ad-hoc' attempts are any 'Nice to have features' of a full and flexible rating policy system (including for example a screen/PowerPoint display of 'what if' solutions to support Council Workshops and the like).
If this description in any way mirrors your Council's own circumstances the 'RCT' is for you .
Application Description
The RCT is a Excel workbook, which walks the operator through the rating calculation process. The following is a feature list of the RCT process followed by the structure and layout of the RCT worksheets.
Features
Features include:
A tool to calculate the "Rates Funding" for the ensuing rating year.
An ability to easily edit/change rating factors and rating iterations and very quickly have the ability to see the impact of such changes.
A formality to the rating calculation process.
A process that is understandable.
A way to simply view the results, within a council workshop meeting.
A process and results that is fully documented...
Minimal effort in ensuing years and in dealings with Audit.
Structure and Layout
The following is a description of the Worksheets that make up the Excel Workbook.
Overview Flowchart
Variables
The RCT variables are set up at the beginning of each year. They are used for column headings and calculations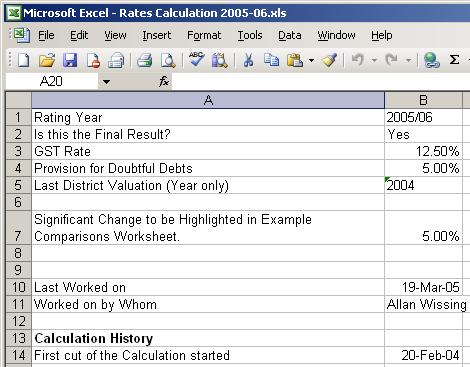 Factors
The RCT factors are extracted from the council's rates ledger. This sheet itemises the activities and the billable ratepayer count against each activity. There is also provision for setting various differentials' and their weightings.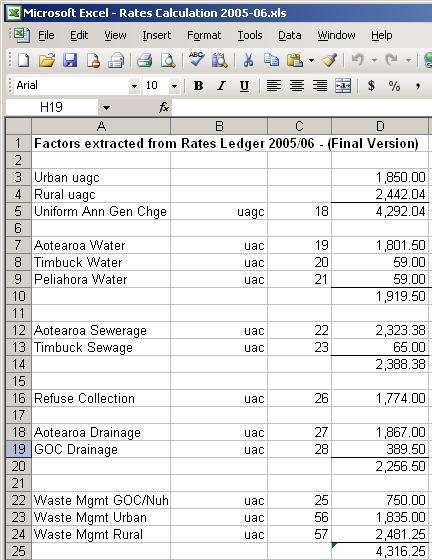 Annual Plan
This worksheet shows the activities that require funding from Rates, the Rating Tool and the Urban/Rural Liability Split.
Annual Plan Comparison
Funding requirements comparison with the previous year.
Allocation
Allocation of funding requirements to Activities taking into account Doubtful Debts and GST.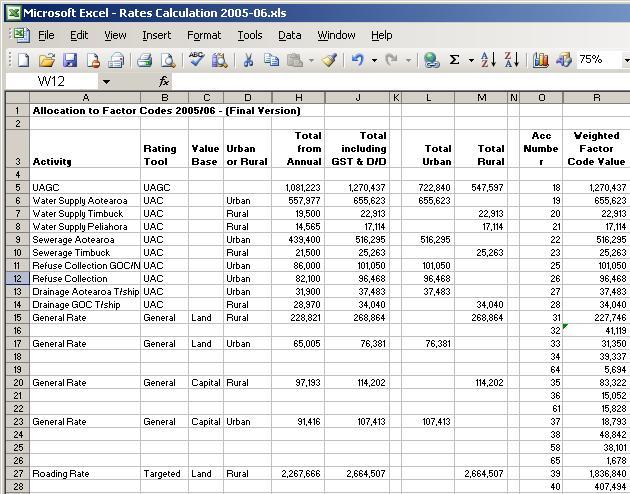 Rates Ledger Input sheet
The information on this worksheet summarises the 'new' rates results and gives an understandable summary for the Rates Ledger Operator to use as input for the next years rates.
Examples
This worksheet shows the new rate amount that will be charged to selected properties as well as the Increase/Decrease from the previous year. It also highlights properties that suffer increases/decreases outside a selected (e.g. 5%) range.
30% UAGC Rule
This worksheet shows compliance to the 30% UAGC Rule.
To Take Away
The Rating Calculation Tool handles all rating policy and calculation issues/processes for New Zealand Councils.
It has:
A proven track record over 8 years.
Modular design for programmed steps fitted precisely to the legislated-mandated NZ rating processes.
Iterations and "What if" rating options for workshop projections ... suited to group overhead projection.
Self-documenting evidential audit friendly defensible documentation with systems manual supplied.
Cost-effective options ranging from user/DIY segments to total service turnkey contracts.
If you seek the peace of mind so essential to the often risky business of calculating and setting your rates then contact us for a no obligation on-site case study based demonstration of our Rating Calculation tool.
Cost.
Description
Indicative Cost
Policy determination, which includes:

Analysis of existing and any proposed amended rating setting.
The ultimate proof of totals.
Derived Audit trails.

$7,000
Rates Calculation Tool, which includes

Construction, implementation and iterations of rating options.
Customising so that the process formalises your Rating Calculations.
Customising to enable interaction with your Rates Ledger software.
Provide a fully documented Operators Manual

$14,000
Total
$21,000
After Sales Service
$1,200
per day
Reasonable disbursements, travel, accommodation and GST are not included in the above.
Contact Us
If what you have read here is of interest to you, then the next step is to contact us . We will then send you a fuller description of the product, which includes sample screen shots, and reports.