New Zealand Steel Ltd, a private company whose majority shareholding is owned by the New Zealand Government, operates a fully integrated steelworks, producing flat steel products, from their Glenbrook Mill, south of Auckland in New Zealand.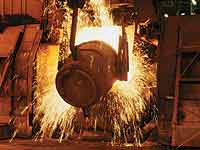 Health & Safety Management required a solution for not only recording Incidents on the workplace, but also have access to some Management tool to ensure all Incidents were followed up to minimise the risk of reoccurrence.
The Solution
The company approached Allan Wissing of Computer Craft and asked him to source or provide a solution.
At the time there was no commercially available solution in New Zealand and only sketching details of some packages available in Australia and the USA.
Computer Craft then proceeded to document and analyse the requirements. It quickly became obvious that New Zealand Steel had their own way of doing things, and a custom solution was mapped out.
A solution was then developed using Nantucket Clipper. The application recorded in detail the Incident details, People involved, be they the injured party, witnesses or operators and also the application provided a means of recording what needed to be achieved to minimise reoccurrence and who was responsible for these actions.
This solution was named 'SteelRisk'.
ISM ran in a MS-DOS environment on a stand-alone computer that was connected to a HP LaserJet III Printer. The development tools where Nantucket Clipper.